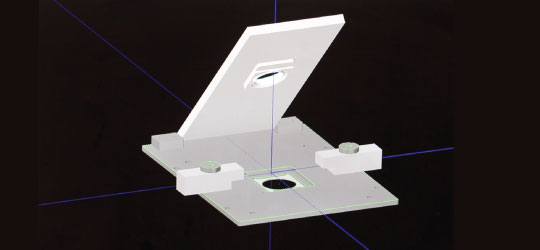 About Us
Proven Experience
Formerly known as the Campus Research Machine Shop, UC San Diego Machining and Additive Prototyping Services has been offering cutting-edge prototyping and machining for campus researchers and external clients since 1983. We understand the importance of applying knowledge and skills from the past while embracing new industry technologies. In addition to performing essential manual machining and welding, our skilled technicians routinely use Computer Numerical Controlled (CNC) machines, including waterjet, toolroom lathe and lager 4-axis Fadal, and 3D printing. See some of our projects.
Comprehensive Design and Production Process
What separates us from other prototyping shops is our comprehensive design approach that we use for each project, whether it involves re-envisioning something that we've done before or executing something that we've never done. This requires detailed knowledge of multiple aspects of machining and welding.
We pride ourselves on completing each job from the concept to the product produced. By beginning with hand-drawn blueprints before using CAD in MasterCam and Solidworks, our technicians thoughtfully plan a project using the machines and techniques necessary to produce the best product in the most efficient and cost-effective way.
If our workload permits, we are willing to accommodate tight timeframes for rapid turnaround. Please inquire about this when requesting a quote and we will do our best to assist you.
Quality Assurance
Our employees ensure that measurements are accurate throughout the machining and welding process. We have an assortment of digital and analog measuring tools as well as a portable CMM to meet thigh tolerances. We have our own inspection checklist and we can complete any additional requirements for your project.
What We Do
Skilled machinists work with campus researchers and external clients to design and fabricate specialized equipment that is not available on the market. MasterCam technology allows shop staff to use CAD programs that run computer-operated mills and lathes to produce completed parts. Skilled welders use solidworks technology and helium leak detectors to provide vacuum welding as well as custom fabricated parts.